Design Research, Design Strategy, 
Thesis M.F.A. Transdisciplinary Design, September 2018- May 2019
The resources available to help people to improve their financial situation include accessibility and inclusion products, financial counseling, and financial education, which informs how people can navigate the banking system, set financial goals, avoid predatory lending and prioritize necessities. However, there are a lot of forces, hidden or visible, that shape our financial decisions, including cultural meanings, emotions, past experiences, perceptions, priorities and values. 
This thesis explores the existing financial empowerment and counseling model for Mexican immigrants and proposes new human-centered ways of providing support to low-income Mexicans in the U.S. This new model goes beyond the understanding of immigrants of how to navigate the mainstream financial system. It proposes additional ways to support immigrants to achieve a better quality of life that resonates with their values and increase their agency over their finances. It considers their traditions, economic activities, cultural values and experience as immigrants, and recognizing them as agents.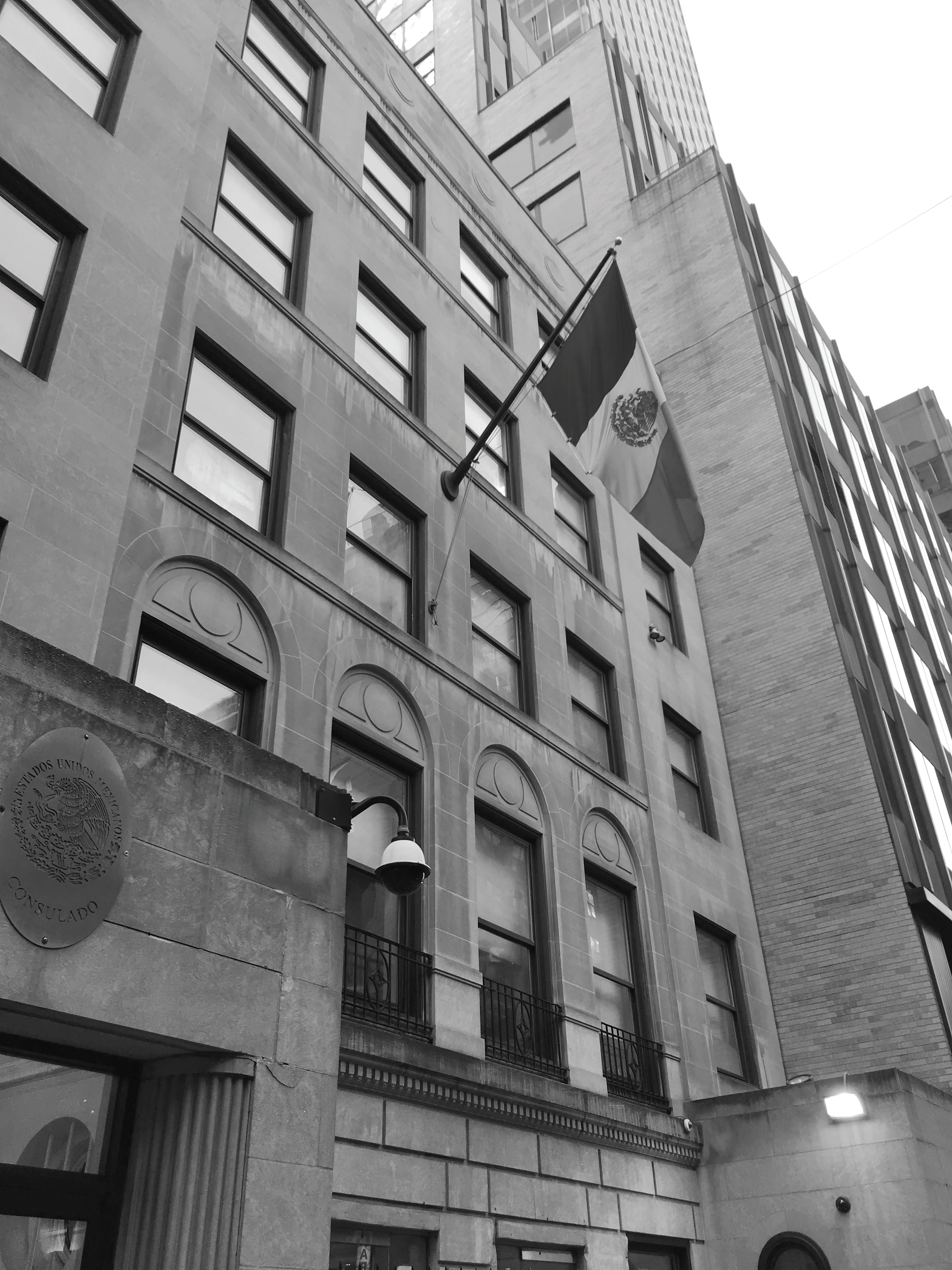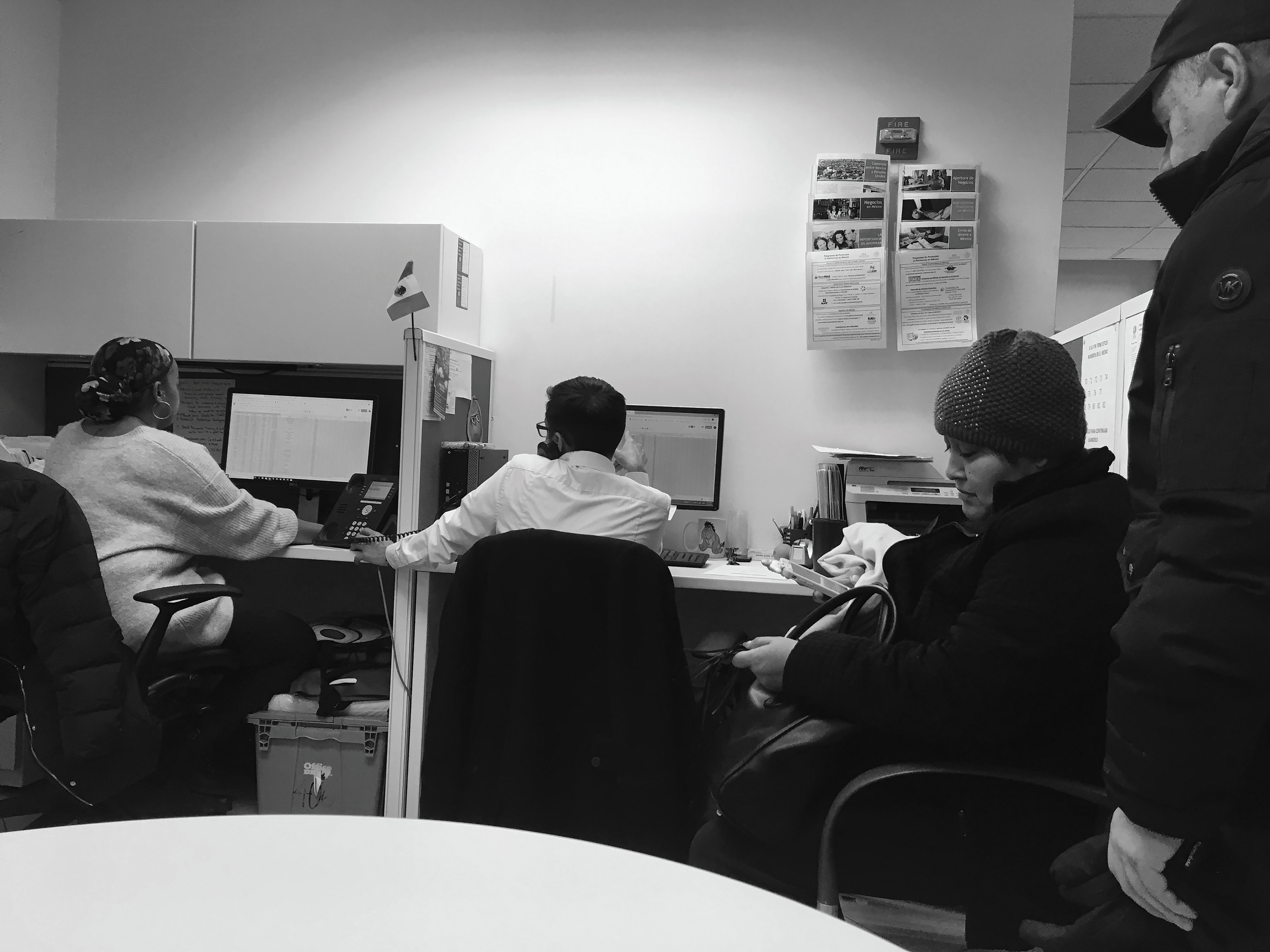 This thesis was situated in the context of the financial counseling model utilized by Ventanilla de Asesoria Financiera. Ventanilla is a program for low to moderate income Mexican immigrants in New York that was launched in 2014. Ventanilla's purpose is to provide information to Mexican immigrants that allows them to navigate the financial system in the U.S. Its ultimate goal is to help them to achieve financial stability and build a secure future. Ventanilla de Asesoria Financiera was established after research was conducted in 2013 by Immigrant Financial Services Study which showed that 57% of the Mexican population in N.Y was unbanked. Among the service they offer are: free tax preparation program where clients can get an ITIN number, receive assistance for filling out taxes, and financial counseling and coaching program where clients receive advice for opening a bank account, getting credit and building credit history, starting a business, increasing their savings, reducing debt and manage their money. In the first year of operations, only 8% of the people who received an advising session opened a bank account and 1% established a credit score. Counselors report that these percentages remain similar after 5 years of operation.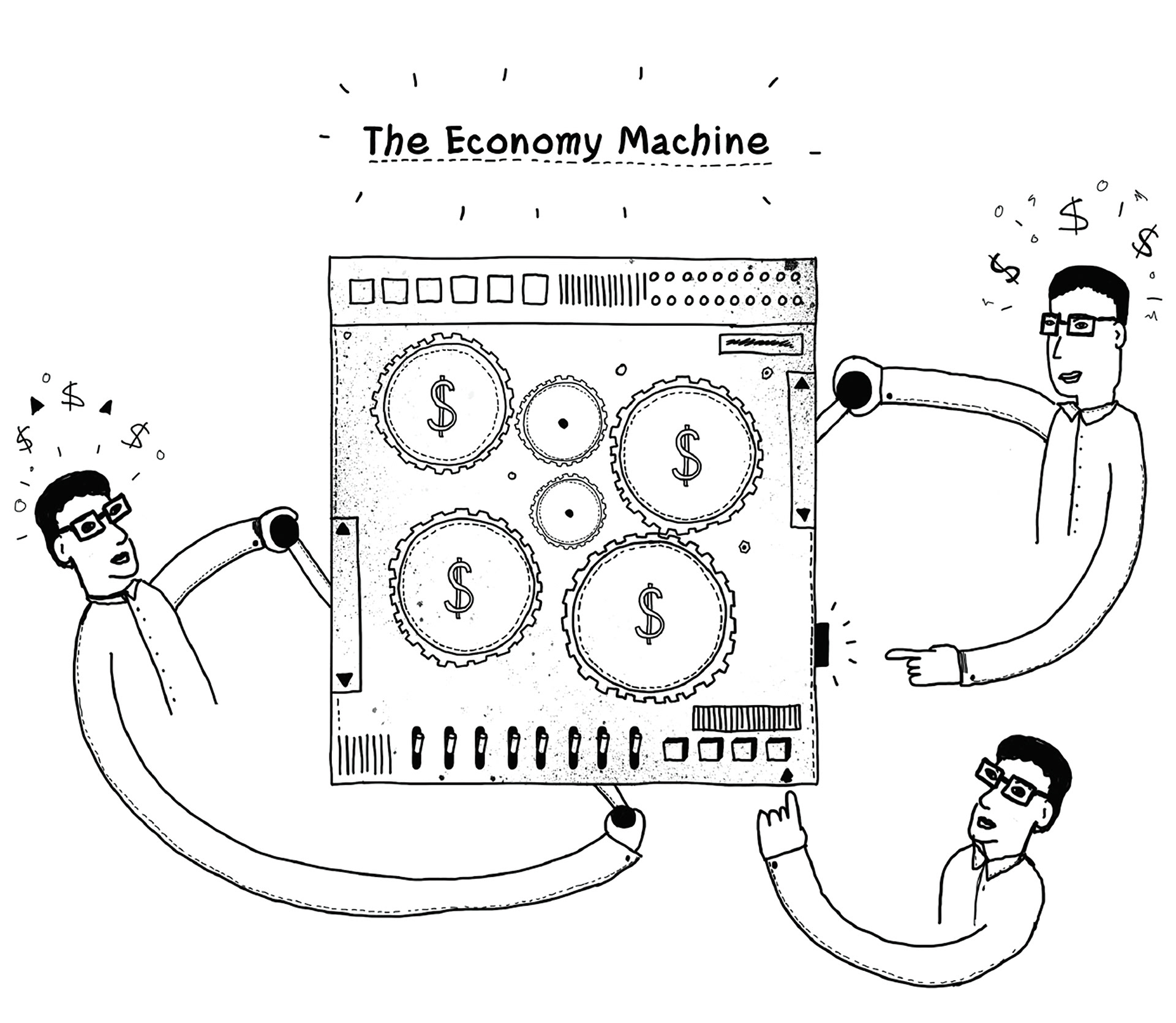 Emotions, cultural meanings and Effects of poverty on decision making 
During my thesis I explored previous studies about emotions and cultural meaning present in decision making. Likewise I explored the effects of poverty in decision making, the immigrant experience and the role of cultural shock in the adaptation process. 
My thesis was highly inspired by the work of J.K Gibson Graham and the Community Economies Collective. In ''Take Back the Economy: An Ethical Guide for Transforming Our Communities'', J.K. Gibson Graham Et al. explain that the economy as we know it seems to operate like a ''machine that governs our lives''. For many years economists had pictured the economy like an engine that needs to be fueled with growth where principal players are business entrepreneurs and banks, whose principal goal is to generate profit and wealth, while regular people have the role of creating income and consuming.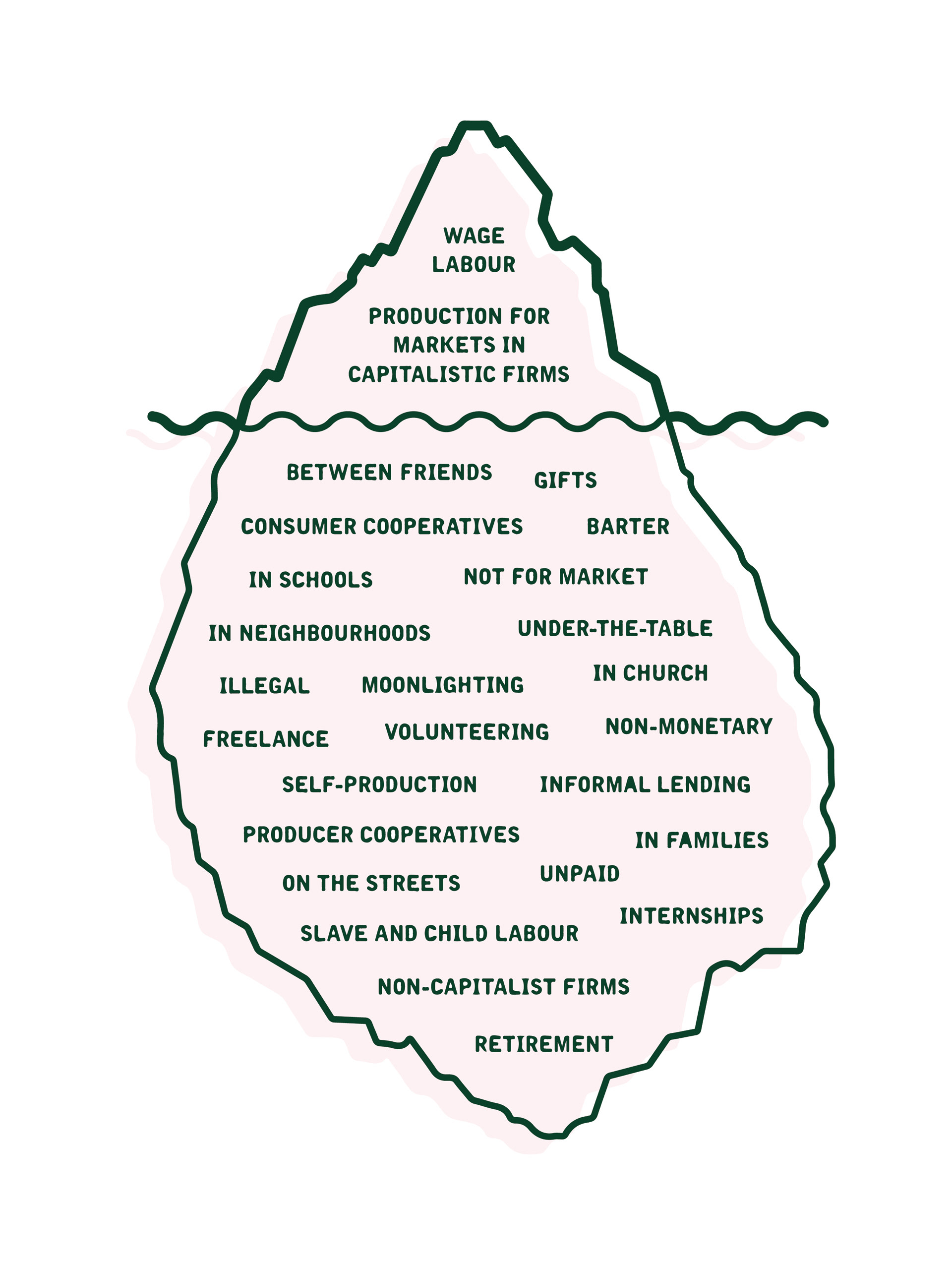 The way the economy operates and is perceived has some consequences. It explodes natural resources without limits. It is not responsible for the effects of industrial production, which is one of the principal producers of various pollutants that destroy natural habitats. It contributes and is indifferent to the widening wealth gap between the ones with excessive affluence and the ones that live in scarcity. Finally, it can't control the predatory behaviors of the ones with more power in the world of finances. In order to escape from the idea that the economy is a machine, and to recognize that the economy is not apart from us and the world we habit, Gibson-Graham et. al. proposed to re frame it. Re framing allows us to imagine the economy differently and change ways of thinking and actions towards it. The way Gibson-Graham et. al. proposed to re frame the economy was by representing it with an iceberg (See figure above). Above the waterline are mainstream economic activities, while below the waterline the people, places, and activities that are involved in economic activities but are not commonly recognized as economic actors. This representation visualizes the diversity of activities that compound our economy and find spaces where we can work and take more ethical actions.
Gaps Identified and Design Space
I reviewed an extensive amount of financial projects to identify projects where emotions and cultural meanings are considered in relation to financial decisions. After analyzing the findings, I located two gaps: 
1. Lack of Reflective and Self Awareness Tools 
Many projects didn't include reflection and cognition about financial decisions and their cultural meanings around them. Which has led to hypothesize that having a better understanding of what's the meaning behind decisions could lead to better management of money. 
2. Lack of Collective Projects 
Another gap I identified pointed to projects operating in collective practices. Mostly all of the formal financial products are designed for individuals and not for groups or communities, despite many cultures practice collective economic activities.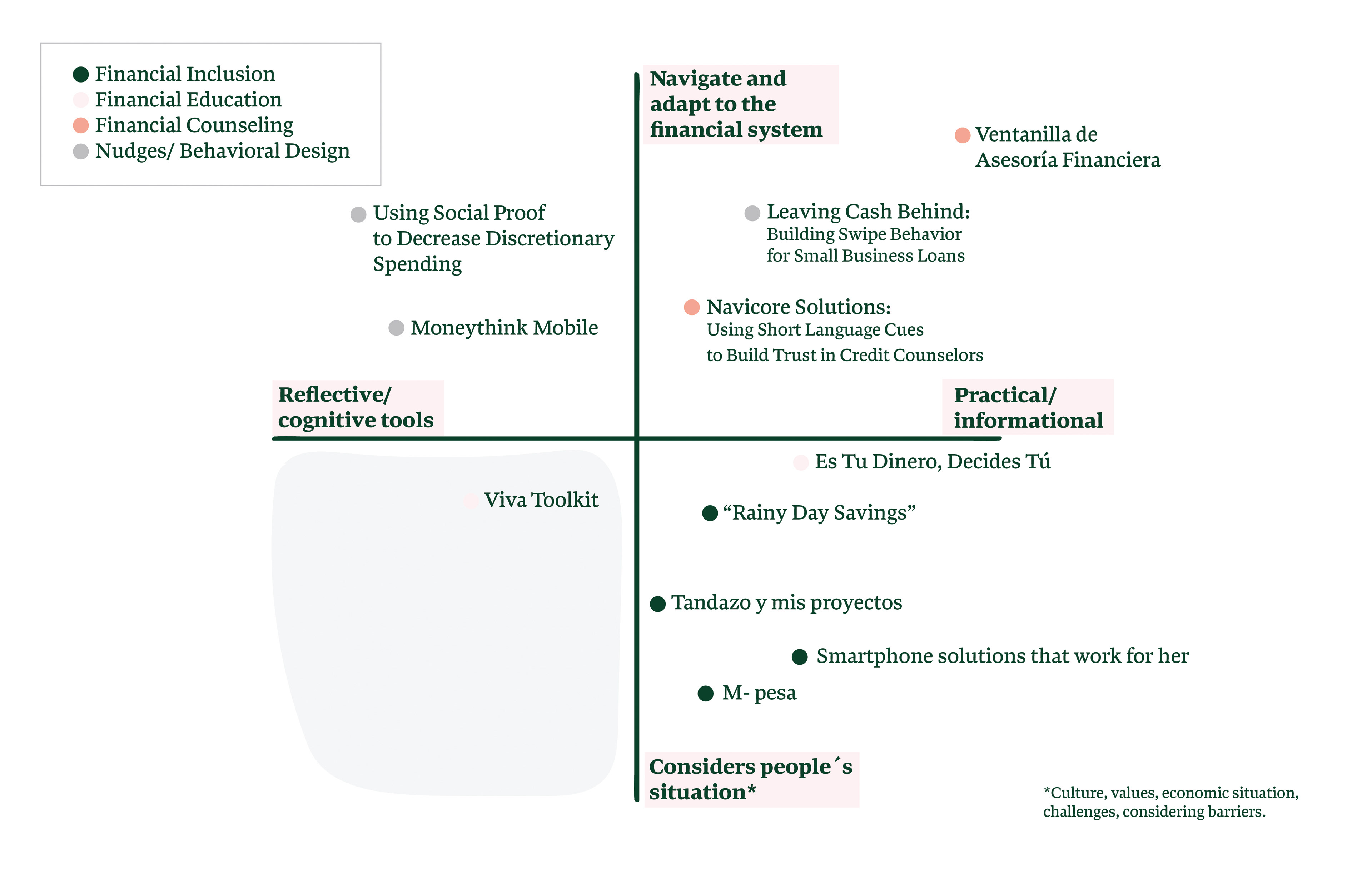 Understanding Emotions and Meanings in Financial Decisions
In order to explore and have a better understanding of the role of emotions and meanings in our financial decisions, I designed a series of research tools. These included two iterations of a cultural probe* and three iterations of a workshop. The intention of these tools was to allow participants to identify and reflect on the motivations and emotions involved in their financial decisions.
Understanding How the Financial Counseling Model of Ventanilla de Asesoria Financiera Works
 One of the goals in my research process was to better understand the financial education and counseling model, the profile of the people who used this service, and the main challenges that clients and counselors face. In order to do so, I deployed a variety of research methods, conducted two semi-structured interviews with financial counselors, made observations of interactions between counselors and clients, ran a co-creation session with the team of Ventanilla and revised supporting material and used the previous research that informed the design of Ventanilla.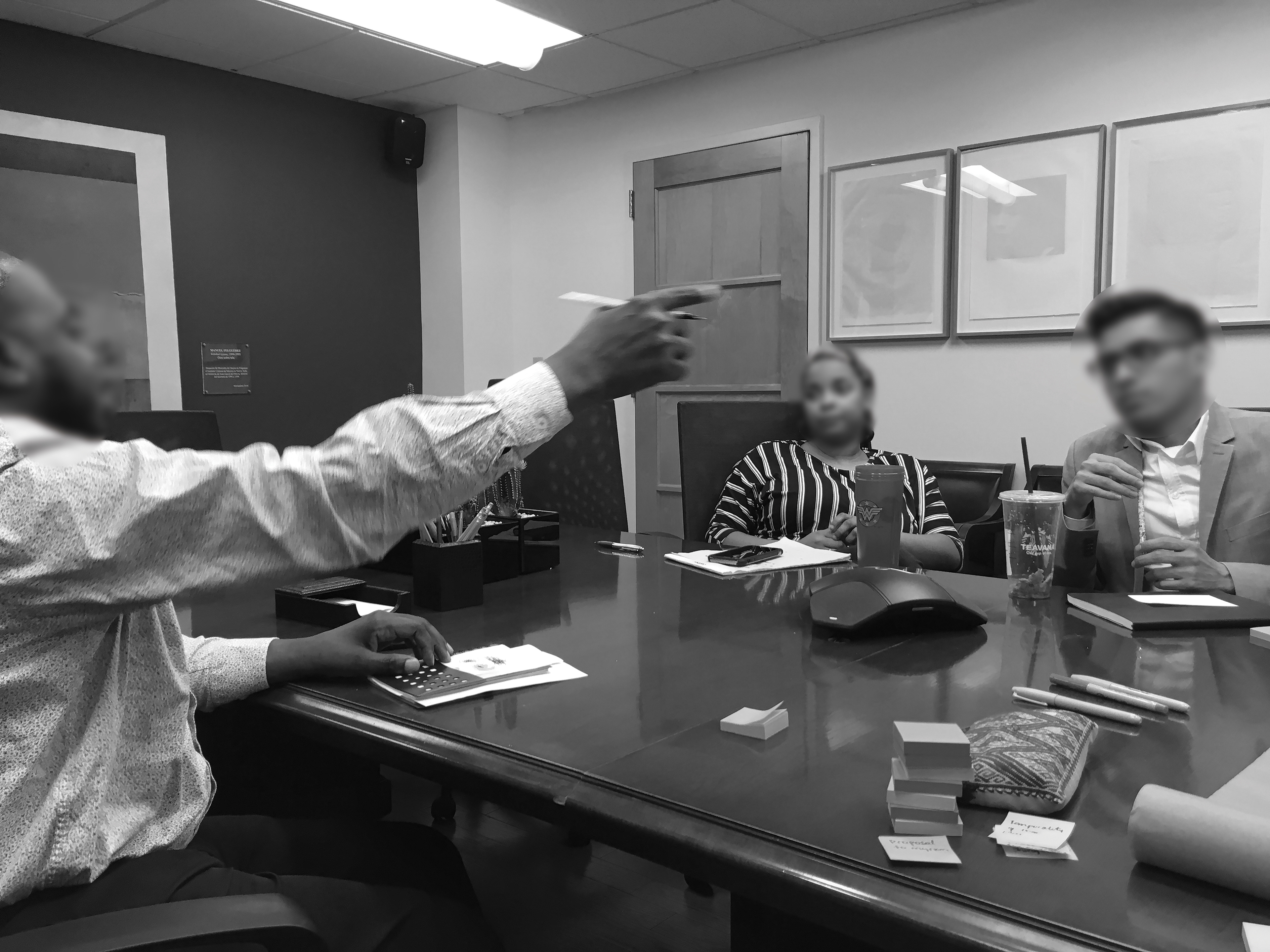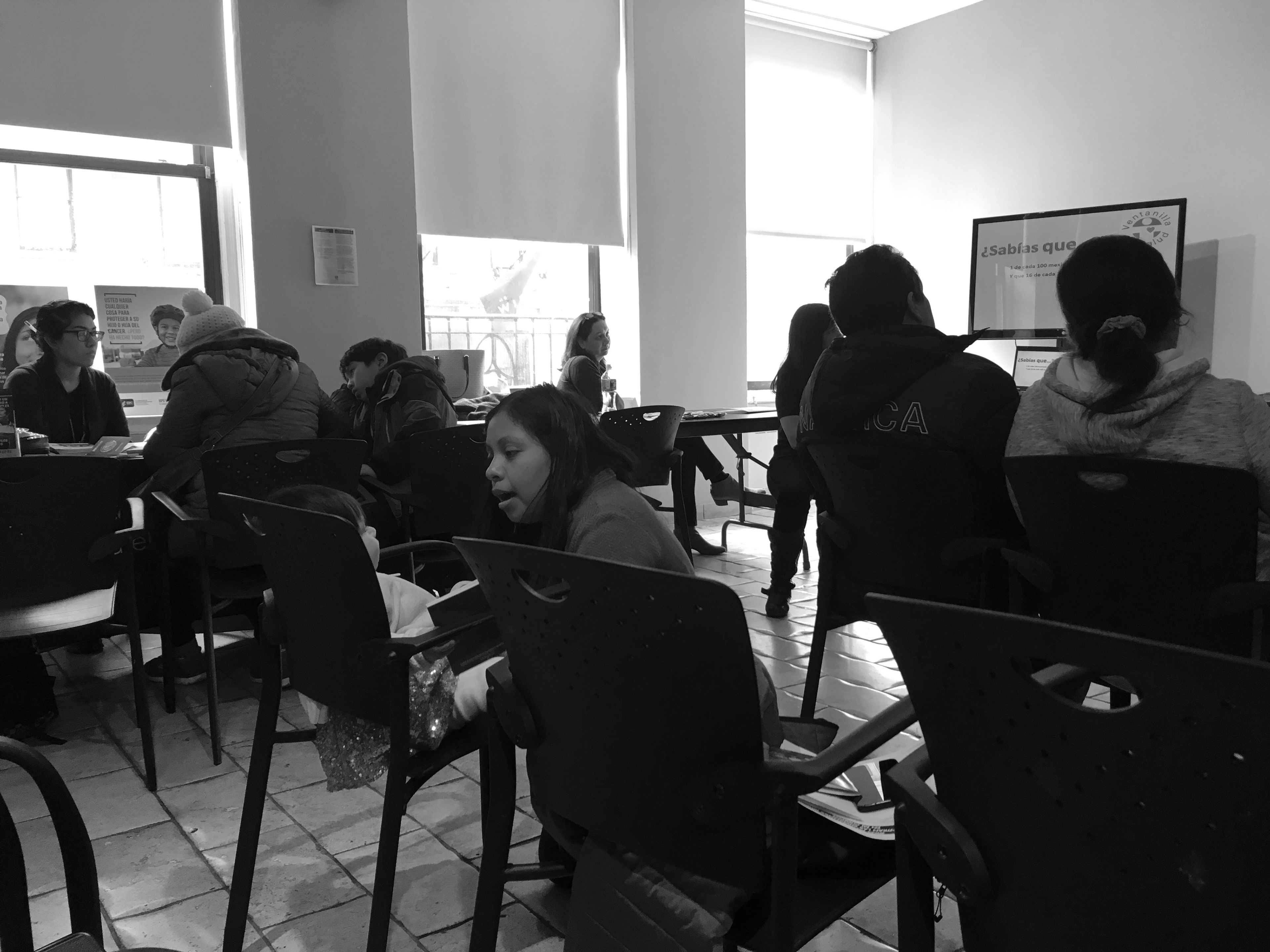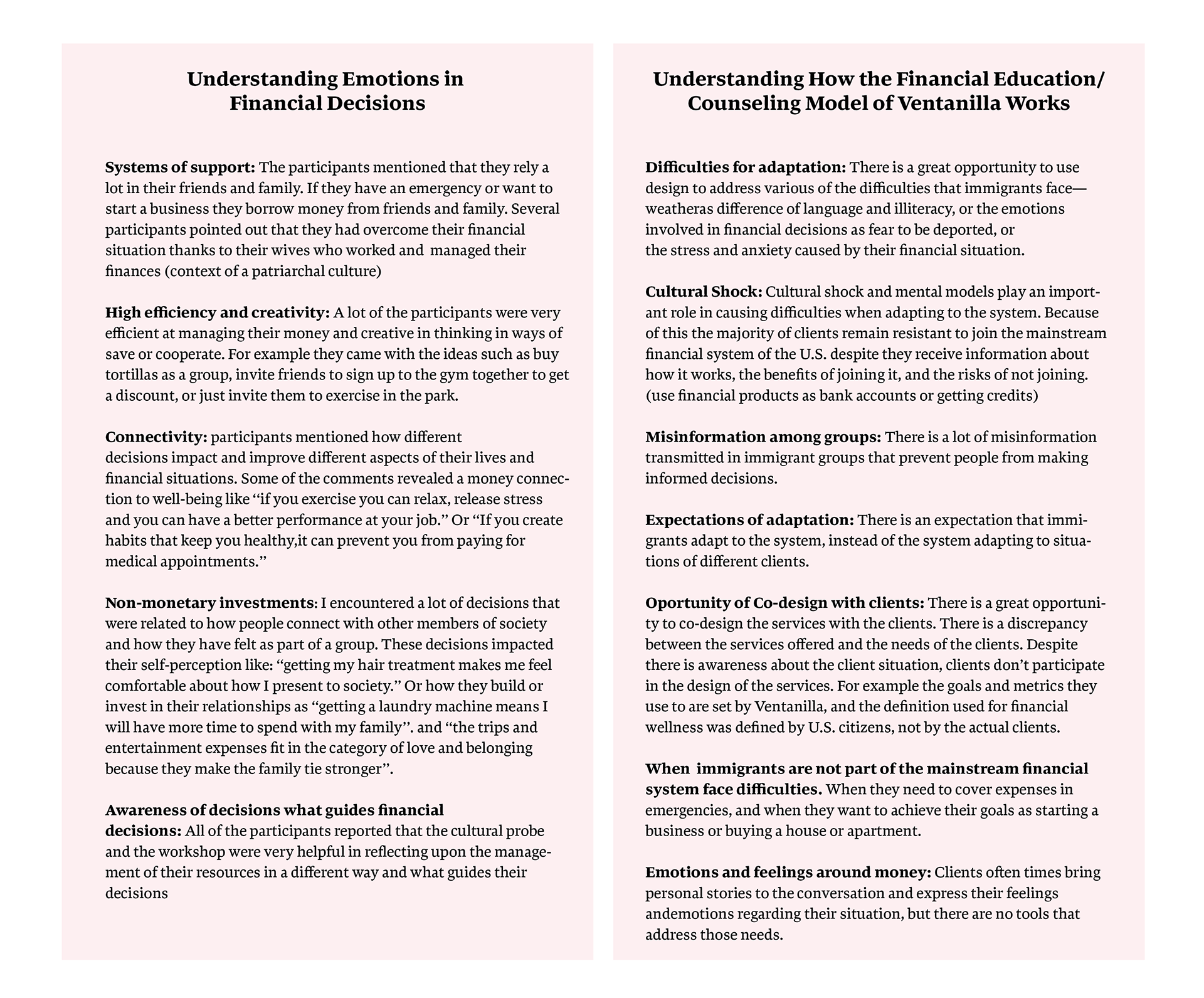 Design Proposal: Bienvenido Compadre
To address the misinformation among immigrants and the barriers of language, and fear of being deported, I designed "Bienvenido compadre". It is an exploration tool in form of a platform where immigrants who have been in the US for a long time can share to new immigrants important information, economic practices and strategies they use to improve their financial situation. That information is co-created with the staff of Ventanilla to make sure the information is true. 
The prototype of this platform took the shape of cards where people can write the information to share. The cards had three categories: ''what you need to know'', ''sharing some good ideas with you'' and ''safe places that can help you''. As prompted, I also determined different topics, such as finances, health, wellbeing, safety, and development. I included diverse categories since finances are related in many aspects of our lives. The cards' design and language used are intended to be more easily relatable, compared to the regular language used by Ventanilla, which is very institutional, formal and top-down. The fact that the information comes from people that share a similar experience is intended to make it more easily relatable and trustable, since comes from people that share a similar experiences.
 The options where these cards could reside are: at a wall at the consulate where people can either consult them or add their input, as a welcome toolkit for new immigrant people that can be circulated from peer to peer, or in a digital space as website or an app. Other goals of this platform are: 
• To have a constant flow of information for Ventanilla, for this to be more tuned into the population it is serving. 
• To introduce Ventanilla services to the people who don't know about them.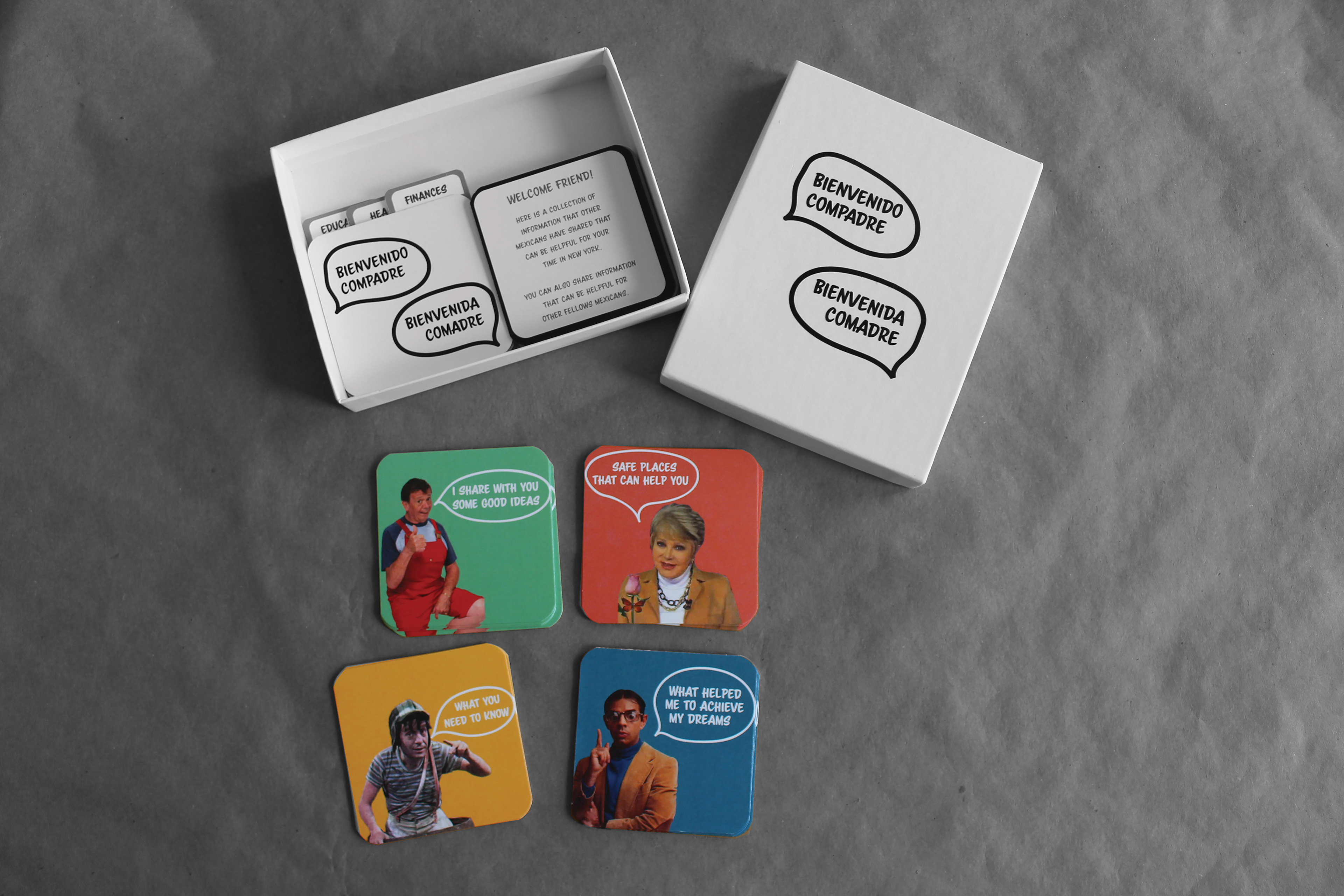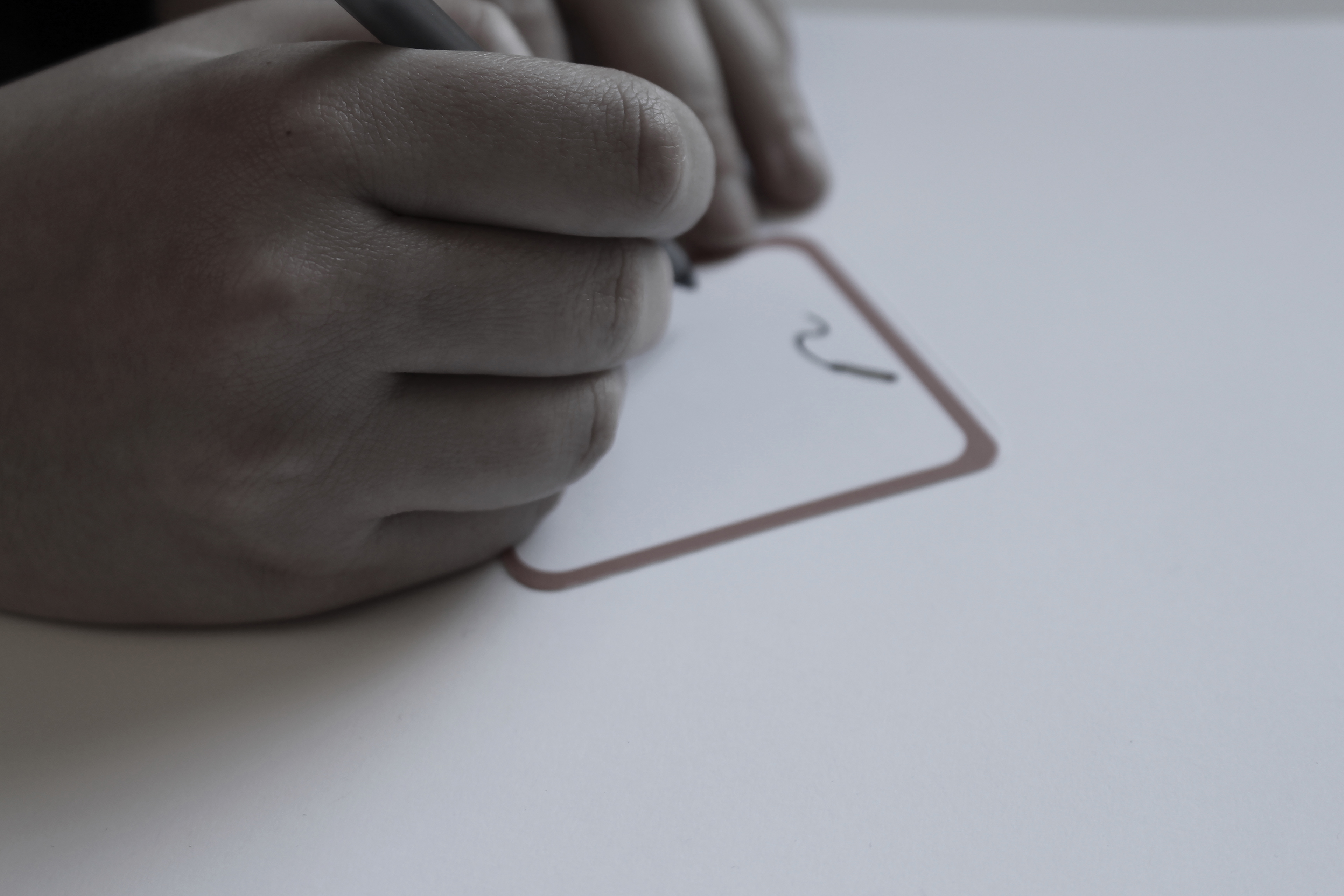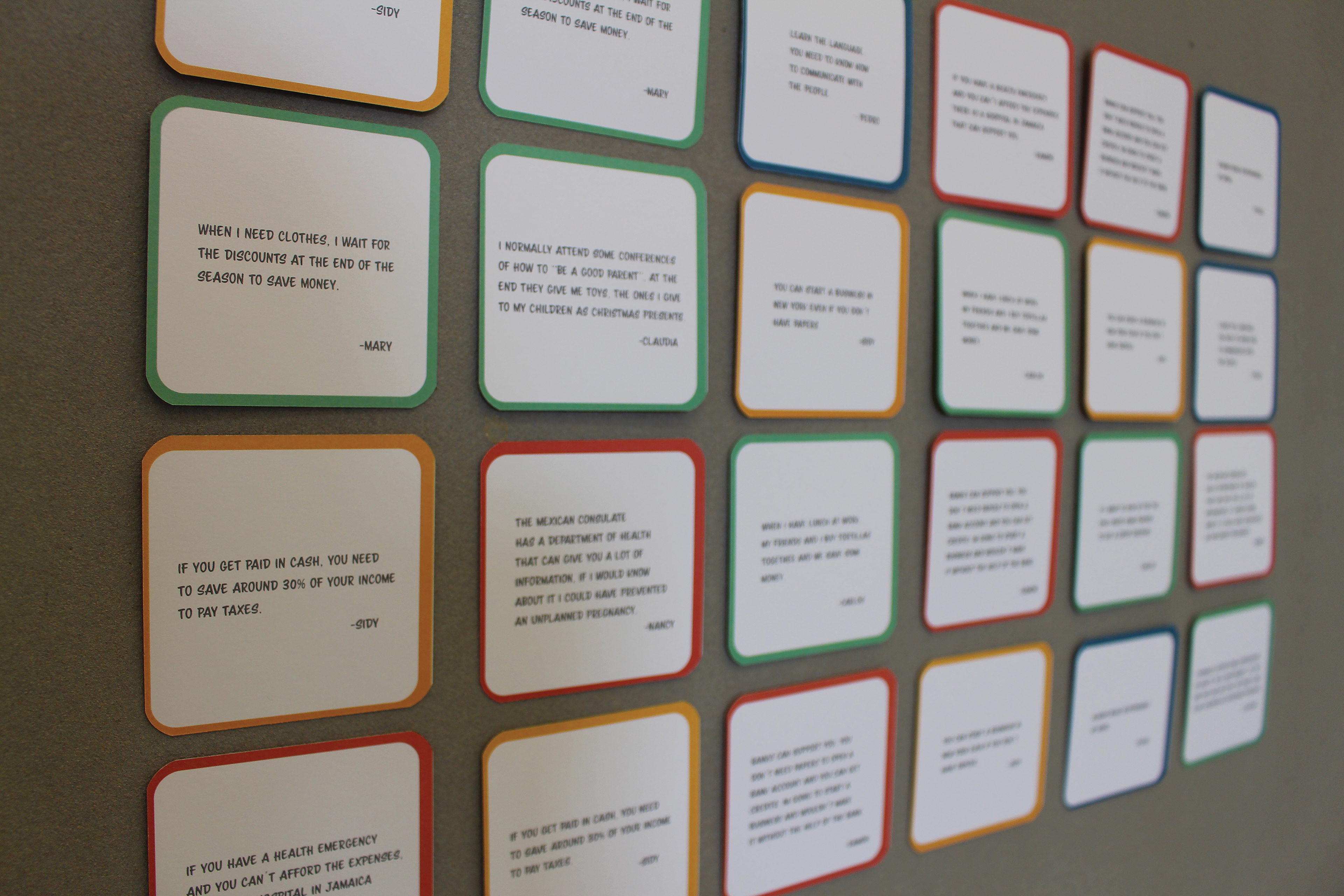 Conclusions and Next Steps
 One of the initial goals of my project was to propose tools that allow people to reflect and be cognizant about the meaning and emotions around their financial decisions. This with the ultimate goal of helping clients to have more agency and control over their finances. However, through this journey, I discovered that though a lot of low-income Mexicans are not part of the mainstream economy or don't use financial products, they have different ways of organizing. They perform a lot of economic activities within families, they get funds from informal lending, they rely on friends, and they are highly creative in ways of optimizing their resources. That means that a big part of their economic activities are located below the waterline of the model that J.K. Gibson-Graham proposes. I also encounter with a series of insights that showed the disconnection between the financial education model employed by my partner organization and the client's cultural values, experiences, and economic behaviors and practices. This disconnection is reflected in the low percentage of clients deciding to join the mainstream financial system. 
With this, I'm not suggesting that the services offered by financial education institutions are not having an impact. I acknowledge that their role is required and that the information they facilitate is very important. Rather, I'm suggesting that there is an opportunity to co-design the services with their clients and to include additional processes and services that can benefit the population they are serving. 
After testing the exploration tools designed, I realized that besides they can meet its initial goals, they can also inform members of Ventanilla how to redesign their services. The first exploration tools proposed, ''Diary of Emotions in Financial Decisions'' and ''Linking Human Financial Decisions to Human Needs'', which aim to help clients have more agency and control over their own finances by creating a space for self-reflection about their financial decisions, can also allow clients to define the values, goals, and priorities under they want to operate and inform counselors about them. The third exploration tool, ''Bienvenido Compadre'', which aims to disseminate practices that can help clients to secure their financial future can also inform Ventanilla about potential spaces of collaboration. By making visible current economic practices of this particular population, this tool also can allow Ventanilla to identify these practices and turn them into opportunities for collaboration with communities to strengthen and develop them. By diversifying economies, communities can have more options to ensure their future. This step is a crucial one towards a more ethical economy that is truly in service for the people.